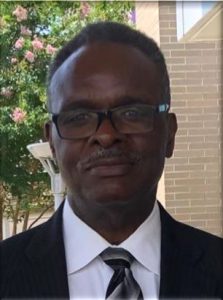 Pastor Fleming O. McClinton was born in Columbia, South Carolina to the late Isaac and Sara Glymph McClinton.  He is the sixth of 11 children.  Pastor McClinton is married to Sara Lakin McClinton, and they have one daughter, Melanie McClinton, and three grandsons, Yohanes, Khalil, and Ori Richardson.
Pastor McClinton graduated from Booker T. Washington High School in 1971 and served in the United States Navy after graduation.
In 1982, he received his calling into ministry while attending Columbia Bible College (CBC), now Columbia International University (CIU).  He earned both his Bachelor and Master of Science Degrees from CBC.  While attending CBC, Pastor McClinton was called to Pastor Goodwill Baptist Church in Eastover, South Carolina where he served for 18 years.  
For his community service in the town of Eastover, he was named "Ambassador of the Town of Eastover" by then-Mayor Christopher Campbell.
Pastor McClinton previously served as an instructor for the Gethsemane Missionary Baptist Association and was appointed Education Commissioner.
He preached his first sermon at Round Top Baptist Church (RTBC) on June 28, 2004.  After becoming Pastor at RTBC, he preached his first sermon on July 11, 2004 entitled, "Where Do We Go from Here." from Judges 1.  Pastor McClinton believes that any assignment of service is a gift from God. 
Through the preaching, teaching, and leadership of Pastor McClinton, along with the Word of God, RTBC has experienced an increase in membership and has become involved in ministries throughout the community including partnering with the Harvest Hope Food Bank to become a Food Distribution Site.
As he continues to pray, his heart's desire is that the Church of the Living God continues to educate its people biblically, worship God reverently, and serve others respectfully.
From early on in his ministry until today, his motto is, "I love you and there is nothing you can do about it!" 
Pastor McClinton says to those reading, "Today, I encourage all of you, my brothers and sisters in Christ, be steadfast, immovable, always abounding in the work of the Lord, knowing that your labor is not in vain in the Lord." (1Corinthians 15:58)